Preparing for the Medical College Admission Test is a daunting undertaking and you need a proper plan of action to succeed! If you've been following along the blog for a bit the idea of creating your own personalized MCAT study guide has come up before so now let's really get into it!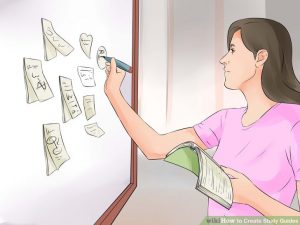 There are actually quite a few study guides and strategy suggestions floating around but unfortunately, like a lot of MCAT information, it's likely wildly outdated! With the major overhaul of the MCAT in 2015 much of the advice and general thinking around how to study for the big test reflects the old exam. It would be better to create a personalized MCAT study guide that is catered to you anyway so let's explore how to do that!
AAMC's Suggestions
The 5-part guideline outlined by the American Association of Medical Colleges is a pretty good place to start and adding in the blog wisdom

Understand – Know The Enemy
 Learn all the ins and outs of the MCAT! Check out this quick overview video from AAMC. Luckily there's conveniently quite a few MCAT Cracker blog posts focusing on breaking down the test! Example: CARS Section Breakdown
Establish – Know Where You Stand
 Run a MCAT Cracker diagnostics test to discover your starting point and find out where you stand with the material so you can best decide how to move forward!
Study – Know Your Stuff
Personalize here! You know yourself best so set yourself up for success and get organized! Explore further with the blog posts we've covered in the past  MCAT Study Tips and MCAT Tools & Resources! Work smarter not harder.
Practice – Practice Practice Practice
And Practice! Knowing the mountain of material is important but don't underestimate the power of practice! Not only have we've been preaching the importance of practice here on the blog…MCAT Cracker  specialize in it! Did you know you can take practice exams focusing on a specific section? So if you're less strong on one section you can focus on working on that!
Simulate – Dress Rehearsal
Test day is a big day!
Gain some confidence and calm your nerves by going through test day like a practice run. This means wake up and prepare to take a full timed test and simulate the real thing at least once before real test day!
Check out the AAMC guide in full here.
You Do You.
By now throughout your many years of schooling you know what works best for you so don't stray and stay true to what works. Basically you know you best and if that means studying in the early mornings versus late afternoon or visual tools instead of textual guides then no need to drastically change your all study habits just adapt and expand! Check out Wikihow's guide to formatting a personalized guide for you here.
You now hold the keys to success in order to create your very own MCAT study guide to conquer the test! As you may have noticed we have covered a lot of these topics already so stay tuned for more MCAT and medical school insight around the blog 🙂
Happy Practicing!