With the first round of the new MCAT just around the corner now let's talk about the range of your study arsenal! A lot of MCAT resources out there are outdated and tailored for the old/current test rendering them to be of little real help for the MCAT 2015 beast! The word beast is not an understatement. This test isn't just longer, it's definitely harder: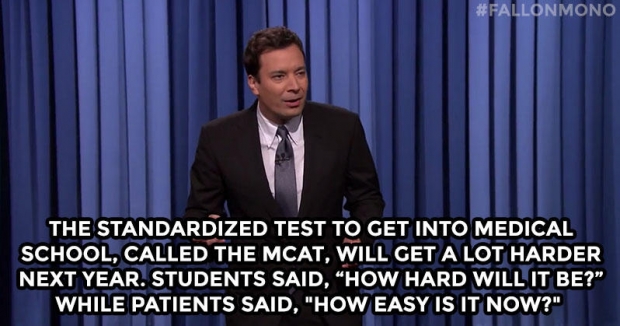 AAMC MCAT 2015 Interactive Guide
The Association of American Medical College thankfully has laid everything out pretty clearly covering all the bases of the MCAT 2015. Using their interactive guide here you can explore explicitly stated tested material and even check out sample questions with explanations! The AAMC also sells a book guide to the test along with sample question for $35 here but with the MCAT 2015 costing $300 itself this guide is not totally necessary. Then there is their full-length practice test for $25 here.
Khan Academy Tutorial Videos
The AAMC with the Khan Academy has also released over 100 videos on numerous topics to be tested for free. Just by using your AAMC log in, you can access the video tutorials here.
Class Notes & Textbooks
These are your best tools for studying and reviewing and since you took tests for these classes already you know the best ways to study for you. Stick to these strategies when studying for the MCAT. The saying "treat it like a class" is real. Using the AAMC guide mentioned earlier as well a guide is the best thing you can really do. Since the material is laid out so well you can pin point areas for review. Commonly students tend to spend too much time reviewing material while spending not enough energy on practicing…
MCAT Cracker Is More Than You Think!
Speaking of practicing: with MCAT Cracker you take MCAT 2015 practice tests that simulate the look and feel of the new MCAT and that emulate the difficulty level of the real thing. To start you can log on to MCATCRACKER.com and take a free diagnostic test here to see where you stand and pin point your weaknesses.
MCAT Cracker also shares awesome videos giving an overview to each section. Check out the introductory MCAT 2015 video below and here's the MCAT Cracker YouTube channel to watch all the videos.

Besides using MCAT Cracker for practical practice and advantageous tutorial videos, THIS BLOG is a treasure trove for an inside scoop on all things MCAT 2015! Be sure to check out our breakdown series where we talked about in length not only the new test itself but each of these new integrated sections! Shameless plug: There's also great posts on study tips and study motivation! So thanks for tuning into the blog and stay tuned for more tips and tricks!