Starting in April 2015 the completely revamped Medical College Admission Test rolls out and to put it simply: IT'S A LOT!
In case you've missed it, here on the blog we've discussed the changes in the MCAT 2015 and even had a series of posts breaking down each individual section of the MCAT 2015 so check them out!
Consider this post a bonus round of breakdowns for a look at the all-new MCAT as a whole!
Why the big changes?
The Association of American Medical Colleges (AAMC) really out did themselves crafting this new exam! The changes reflect a shift of focus on a more holistic approach to medical education and testing how students can apply their all their knowledge to the medical field. In addition to testing on the application of the natural sciences there is now a section on the social behavioral sciences highlighting the importance of sociocultural and psychological expertise integration needed in today's diverse healthcare world.
Registering for the MCAT 2015
You can start registering the new test starting in February 2015!
Fun fact: To encourage examinees to be the first to take the new exam, AAMC will provide April 2015 examinees with a $150.00 Amazon.com gift card. FAP (more on FAP below) recipients who take the exam in April of 2015 will receive a $60.00 Amazon.com gift card.
$ Cost of Taking the MCAT 2015 $
The test is a bit pricier than it's predecessor at $300 (up from $275). This is to make up for the fact that this MCAT is longer with more questions in each section and longer in actual test time.
Keep in mind the AAMC will continue to offer the Fee Assistance Program (FAP) to help student who may need financial assistance. Those who qualify for FAP benefits will be charged a reduced registration fee of $115 so be on the look out for that and apply asap!
What's on the MCAT 2015?
On the new MCAT there will be 4 big broad sections (remember there are individual breakdown post on each):
Biological and Biochemical Foundations of Living Systems

, 59 Questions & 95 minutes
Chemical and Physical Foundations of Biological Systems

, 59 Questions & 95 minutes
Psychological, Social, and Biological Foundations of Behavior

, 59 Questions & 95 minutes
Critical Analysis and Reasoning Skills

, 53 Questions & 90 minutes
Overall the AAMC have slated 10 Foundational Concepts and 4 Skills within the sections that they are testing you on. These concepts and skills reach across all the courses you've taken and really stretch your knowledge to the limit! Each of the Foundational Concepts are broken down further into Content Categories for further detailed clarification on the subjects. The test makers here are really thorough! Learn about each section, concept, content category and skill with the AAMC's  tour of the exam here.
How long is it?!
Get ready for this. Ready? It's a marathon with total testing time is 6 hours and 15 minutes! But counting everything including the tutorial, breaks, and check-in procedures, test day clocks in at around 8 hours! Time breakdown below: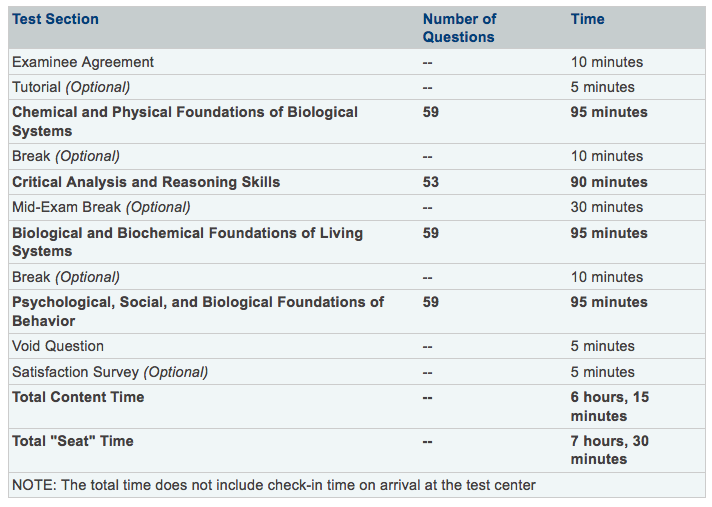 Scoring the MCAT 2015
You will receive 5 scores, that's one for each of the four sections and one total score! Each section's score ranges from a low 118 to the high of 132 with the midpoint for each being 125. Thus the total score range is from 472 to 528 with a midpoint of 500. That's a little confusing to conceptualize so check out the AAMC's graphic below: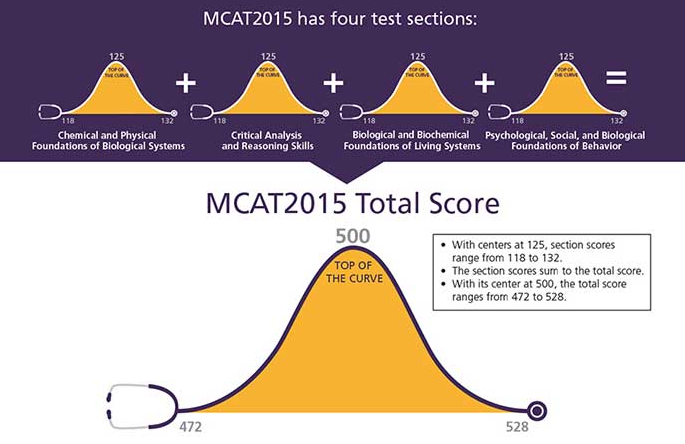 This all is really an outlined introduction to everything MCAT 2015 (it's huge). See everything the AAMC's has got to say on the test here and be sure take a gander at the FAQs here. Remember that with this major overhaul of the MCAT a lot of resources available out there are now outdated and won't be the right in preparing for MCAT 2015. MCAT Cracker has it down though and you can PRACTICE PRACTICE PRACTICE to gain the edge over this new beast.